Stonyhurst College fined for stonemason's lung disease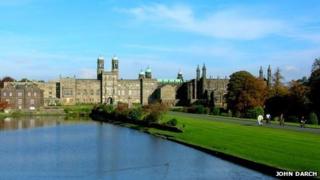 A Lancashire boarding school has been fined £100,000 after a stonemason developed an incurable lung disease.
He had been repairing Stonyhurst College's 200-year-old buildings when he was diagnosed with silicosis in 2011 from silica dust found in stones.
The Health and Safety Executive (HSE) said exposure to the dust may have been more than 80 times the daily limit, Preston Crown Court heard.
The school admitted a Health and Safety breach and said it was "remorseful".
Stonyhurst College had employed the 55-year-old, from West Derby in Liverpool from June 1999 as its buildings needed repairs for wind and weather proofing.
In July 2011, he was diagnosed with the lung condition four months before being made redundant by the fee paying school near Clitheroe, the HSE said.
'Difficulties for life'
In 2005 and 2009, two further stonemasons were employed to help build a new four-storey, sixth form building, the HSE said.
The project required more than 400 tonnes of sandstone and the stonemasons worked with powered hand tools cutting, shaping, chiselling and finishing the sandstone.
The HSE investigation found Stonyhurst College failed to monitor or reduce the exposure to silica dust, despite sandstone containing between 70% and 90% of those particles.
HSE Inspector Mike Mullen said: "There was no attempt by the college to assess and manage its workers' exposure despite having their attention drawn to the risks by its own health and safety consultant in 2008.
"A worker who was previously very active now struggles to play outside with his grandchildren, and will suffer breathing difficulties for the rest of his life."
A statement from the school said: "Stonyhurst College pleaded guilty to this single offence at the outset of these proceedings.
"It has indicated its remorse in open court. We accept the judgment of the court."
Stonyhurst College was also ordered to pay £31,547.78 in costs and a £15 surcharge.
Overseas and UK children aged 13 to 18 are taught at the school which has an annual boarding fees of about £30,000.