Blackpool museum project gets £1.24m lottery award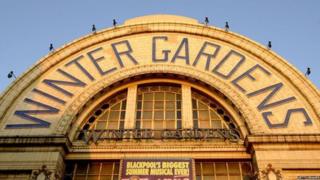 Plans for a Blackpool museum have secured £1.24m of lottery funding.
Under the proposals, the £20m museum would be based at Blackpool's Winter Gardens.
The project is the brainchild of Simon Blackburn, leader of Blackpool Council, who felt the town should "showcase the rich history of the resort" and tell the "Blackpool story".
Sara Hilton, head of Heritage Lottery Fund North West said the proposals for the museum were "truly visionary".
'Lively spirit'
As well as the Heritage Lottery Fund (HLF) award, added funding from Blackpool Council and volunteer support means there is £1.6m available for the development stage of the project.
Mr Blackburn said he was "over the moon" the HLF "saw the potential in the proposal".
He said: "It will not be a conventional museum.
"It will be a dynamic and celebratory space; a blend of museum, visitor attraction and theatre, filled with artefacts, film, music and performance.
"It will have a strong personality with a memorable and distinctive take which is true to the lively spirit of Blackpool."