Abbeystead gas explosion: Service honours victims 30 years on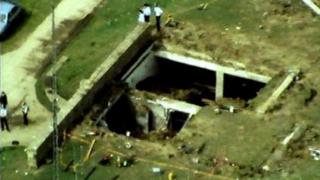 Villagers of St Michael's in Lancashire have marked the 30th anniversary of the Abbeystead pumping station explosion with a special act of remembrance.
People lit 16 candles at 09:15 BST in the parish church to remember the 16 victims who died.
Flowers were also laid at a memorial plaque in the church.
A 44-strong party of residents was being shown around the underground water pumping station when the blast occurred.
The tour had been organised as a public relations exercise by the former North West Water Authority following concerns about flooding in the village.
The Health and Safety Executive (HSE) found the pumping station was sited close to coal seams making it vulnerable to methane gas build-ups.