RSPB loses bid to stop Ribble Estuary seagull cull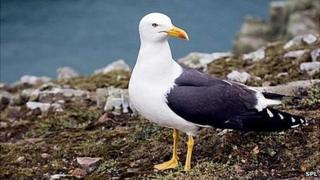 A bid by the RSPB to block the culling of thousands of gulls has been lost at the High Court.
The judge was asked to quash the environment secretary's decision to sanction the cull, in the Ribble Estuary on the Lancashire coast.
Aerospace firm BAE Systems said reducing the number of lesser black-backed and herring gulls was required.
The cull would lower the risk of birds being sucked into jet engines at Warton airfield, it added.
The RSPB argued that the destruction of the birds was unlawful and would set a dangerous precedent for bird conservation in the UK.
Mr Justice Mitting, sitting in London, ruled the claims "unfounded", dismissed the RSPB's application for a judicial review and ordered it to pay £10,000 in legal costs.
'Substantial decline'
Consent was given in May last year for the killing of 552 pairs of lesser black-backed gulls and for further operations to maintain the population at a reduced level for 10 years, provided the overall population was not reduced to fewer than 3,348 pairs.
There was also consent for further measures to be taken to maintain the herring gull population at the reduced level that followed an earlier cull.
Speaking at a hearing earlier this month, David Forsdick QC, for the RSPB, said the culls threatened to undermine the conservation purposes of European directives for birds and habitats.
He argued the populations of lesser black-backed gulls were in "substantial decline" across the UK and in need of protection.
Mr Justice Mitting said a "careful and rational assessment of the numbers of lesser black-backed gulls which could be safely culled" had been carried out.
The judge refused the RSPB permission to appeal against his ruling, although the society can still ask the Court of Appeal to hear its case.
'Bird strike risk'
Following the ruling, the RSPB said the judgement was "deeply worrying" as it believes it "fundamentally misinterprets the law as it relates to protecting birds".
A spokesperson said: "It is important to stress that the dispute at the centre of this case is not about air safety.
"The RSPB fully accepts the risk exists and that the cull is necessary, this is about how the government can sanction the killing of an additional 1,100 lesser black-backed gulls without acknowledging the damaging impact of removing almost a fifth of the breeding population of a species on a protected site."
BAE Systems said it was pleased with the court's decision.
A spokesman said: "We believe that a reduction in the gull population will reduce the risk of a bird strike incident on or in the vicinity of Warton aerodrome, and therefore will ensure the safety and wellbeing of local residents, aircrew and employees."