Robinson sisters on vegetables, Chelsea and changing trends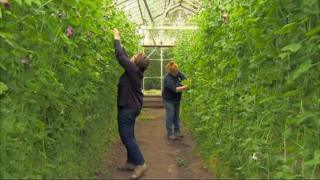 "The younger people are willing to try something different and not just the established vegetables."
For vegetable veteran Susan Robinson, times are changing - and she could not be happier.
Alongside her sister Margaret, she runs Preston nursery W Robinson & Son, a business founded by her family in 1860.
And until the pair took over, there was only ever one name in charge.
"Prior to this, they've all been William Robinson but in our generation, there's Margaret and I.
"We're the fifth generation. My son is the next. We feel [this] is very important to keep the line going, to keep it total control over what we do."
What they do is sell and show vegetables- and the latter has seen the family win numerous awards and medals.
One show has always held a special place in their hearts - the RHS Chelsea Flower Show, where the pair picked up their latest accolade, a silver gilt medal, on Tuesday.
Since they were children, they have been visiting the show, which Susan says was "the exciting show" as it marked the start of the season.
'Cone of tomatoes'
She says her father "used to hold it in such highest esteem", and that she and Margaret do the same, though things have changed since Mr Robinson was showing his vegetables.
"The old displays were 60 feet long, two tiers, huge arches of onions and pillars of leeks and everything very straight.
"Lots and lots of straight lines and everything very balanced - one there and one there so it was slightly architectural.
"That really is not our style these days."
She says the displays now not only reflect the end result of the growing process but also the plants that produce the vegetables.
"One of the reasons we started to take plants is that we'd got customers looking at a cone of tomatoes and say 'how do you grow them like that?'
"So we thought we need to show people that we don't grow them like that and they don't grow in a little plastic tray, they grow on a plant, so let's take the plant.
"Now nobody complains that they can't grow a cone of tomatoes."
'Anything is doable'
She says the change in the way things are displayed is a reflection of a wider trend in the way people view vegetable growing.
"Our displays have had to move with the times - everything has to move along and go with the era that you're living in because sometimes change is good.
"These days, people are looking for things on different criteria - can I grow it? Can I eat it? Does it taste nice? Is it viable? Is it doable?
"Any vegetable that meets those, that's it, that's what people are going to grow.
"It doesn't matter that it's not the traditional cabbage, carrots, potatoes - anything from any part of the world is doable.
She says that trend for new and different crops can be seen in one of their newest vegetables, a purple-podded pea.
"It's a modern take on the old-fashioned heritage variety [but] takes up less space and it's a lovely sweet sugar snap."
'Start with containers'
Her sister Margaret agrees, saying that most young gardeners now "just start with containers".
"Everybody has a patio or a container and that's the way it's going with vegetable growing.
However, she says there is still a place for older crops.
"One of the things that we always put on and it's really, really old-fashioned is the green curly kale.
"[It has] fantastic flavour and it's so easy to grow in a pot on a patio, window ledge or balcony and of course it's a superfood.
"It's absolutely full of vitamins which creeps into how people's choice are made today."
And as for their silver gilt medal, Susan says that not getting gold is not too disappointing.
"That little circle of gold is magnificent but the medal is only half the award.
"The other half is meeting the public and getting the feedback and seeing what they think."
Margaret added: "When the visitors come to the show on day one and say 'wow, love this, love that', that award - whatever we've won - is doubled."