Lancaster University develops online map to reveal city's war dead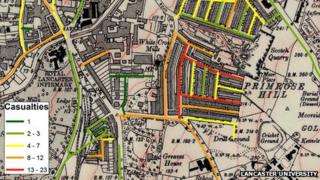 Historians are developing an interactive online map featuring the stories of more than 1,000 soldiers who died during World War One.
Academics at Lancaster University are creating the unique tool, called Streets in Mourning.
The colour-coded map will show which parts of the city suffered the heaviest casualties.
People will also be able to click on a street, area or school to reveal personal details of the deceased.
The ultimate aim is to create a "walking tour" of Lancaster, with pictures and names of the dead in the window of each house affected by a loss.
Professor Ian Gregory is urging members of the public to get involved in the project.
"The map will help you begin to understand the impact that the deaths of over 1,000 young men would have had on a town the size of Lancaster," he said.
"We want people to tell any stories they may know of these people because we need local knowledge."
'Heavy losses'
The parts of the town that suffered the most losses will be marked in red.
Schoolchildren will be able to find which former pupils from their school died in the conflict. Lancaster Royal Grammar School and Cathedral Primary each suffered dozens of casualties.
The map is based on research by the Lancaster Military Heritage Group and materials held by Peter Donnelly of the King's Own Royal Regiment Museum in the city.
It will be placed on display at Lancaster Castle on 28 June - Armed Forces Day - before going live with its own website later in the summer to coincide with national events marking 100 years since the conflict began.