RSPB asks High Court to stop Ribble Estuary gull cull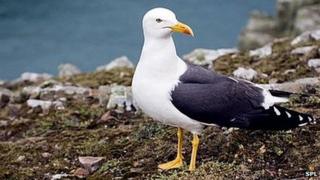 A government decision to cull gulls near a Lancashire airfield has been challenged in the High Court.
The Department for Environment, Food and Rural Affairs (Defra) ruled in 2013 that a cull in the Ribble Estuary could go ahead after concerns were raised by BAE Systems about safety at Warton.
The RSPB's David Forsdick QC told the hearing in London it could undermine European conservation directives.
A Defra spokesman said the gulls were impacting on air safety.
BAE said a reduction in the population of lesser black-backed gulls and herring gulls was necessary because of fears over birds being sucked into the engines of jets taking off at the airfield.
Consent was given to kill 552 pairs of lesser black-backed gulls and for further operations to maintain the population at the reduced level for a decade, with a proviso that the overall population must not go below 3,348 pairs.
There was also consent for further measures to be taken to maintain the herring gull population at the reduced level that followed an earlier cull.
Mr Forsdick told the sitting judge Mr Justice Mitting that as far as the RSPB knew, "this has never happened before in the UK and that is why [we are] so concerned to have the decision set aside".
He said lesser black-backed gulls were in "substantial decline" and in need of protection.
He added that were the RSPB's challenge not to be upheld, the charity would look to take the case to the European courts.
The Defra spokesman said that the cull was legal and that it was necessary as, in this instance, "human life is more important than wildlife".