Blackpool pier rescue after man caught in rising water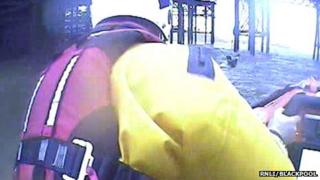 A man was rescued after being caught in rising water near Blackpool's North Pier, the RNLI said.
A spokesman said the Coastguard received call from a member of the public who had seen a man walking into the water early on Saturday.
By the time a volunteer crew from Blackpool rescued the man, the water was up to his chest.
Crew member Nick White said: "The man was suffering badly from the cold and was rapidly becoming exhausted."
The rescued man was treated by paramedics and transferred to hospital, the RNLI said.