Blackpool FC chairman reports threats to family to police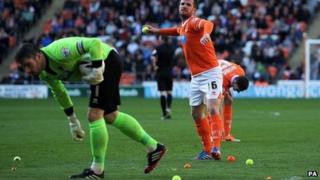 Threats made on social media sites against the family of the chairman of Blackpool Football Club are being investigated by the police.
The club confirmed that Karl Oyston contacted the police after threats involving "acts of violence" were made.
Lancashire Police said: "We are making enquiries as a result of the report that was made to us."
Fans of the relegation threatened club disrupted a game last week by throwing tennis balls on to the pitch.
A club spokesman said the chairman had "broad shoulders" and could take personal criticism but not threats targeting his family.
Blackpool are currently in 22nd place in the Championship table.