Lancashire Constabulary to recruit 100 new officers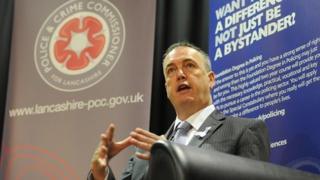 Lancashire Constabulary will get 100 new officers to "maintain the strength of front-line policing", the police and crime commissioner (PCC) has said.
Last year the force announced cuts which will bring the number of officers it will lose by 2017 to about 700.
PCC Clive Grunshaw said the force still needed to save almost £20m, but "these cuts do not mean the Constabulary can stand still".
He said "natural turnover" was threatening to lead to understaffing.
Lancashire Constabulary is making cuts of about £80m over the next four years and Mr Grunshaw said: "Despite all the savings which have been made so far, the force still needs to find almost £20m."
The cuts announced in September also included the axing of 275 support staff.
'Must act now'
Mr Grunshaw said he had "told residents I could not give them more police officers, and that remains the case".
However, he said that as cuts take hold, "the Chief Constable and I have a duty to maintain resilience".
"That means making sure we do not lose more than 700 officers through natural turnover - and that will be the case if we do not act now to recruit."
The recruitment is the first time in five years that external candidates will have been considered for the force.
Deputy Chief Constable Andy Rhodes said: "We need to recruit to remain operationally resilient and at the same time we need to be representative of the communities we serve.
"We know people want to join us and they have been unable to do so, but now is their chance."