£30,000 reward in 2007 Paige Chivers murder inquiry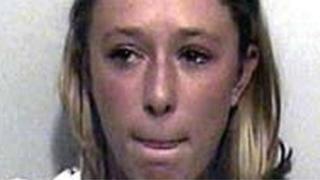 A £30,000 reward has been offered for help in solving the murder of a 15-year-old girl, who disappeared almost seven years ago.
Paige Chivers, from Blackpool, was last seen at a bus stop on Ashfield Road on 23 August 2007. She would now be 22.
Lancashire Police said they believed she had been murdered and her body disposed of.
Her father Frank, 49, died last year after being found with a head injury at his home in Layton.
Sean Conlon, 44, of no fixed address, was convicted of his murder and jailed for a minimum of 15 years at Preston Crown Court in January.
Despite numerous appeals, rewards, and a long-running police investigation, Paige has not been seen or made contact with any family or friends, police said.
In 2012, Lancashire Police said they had "exhausted potential leads" for the case.
A number of people were arrested in connection with the case, but all have since been released without charge.
'Answer in Blackpool'
Det Supt Andy Webster said officers were reviewing all forensic evidence and would be speaking to "significant witnesses".
"It is incredible to think that with all the technology and social media and traces we leave in our daily lives that there are none that have led us to Paige.
"After exhaustive enquiry the only natural conclusion we have sadly reached is that Paige is dead.
"Although it has been a long time since she went missing it is never too late for people to come forward to talk to the police.
"I remain convinced the answer lies in Blackpool.
"I would appeal directly to anyone who may have played even a minor role in the disappearance of Paige... if you come forward and tell the police what you know then there are ways that we can lawfully protect you."
Det Supt Webster is also investigating the 2003 disappearance of 14-year-old Charlene Downes, who is also presumed to have been murdered.
Officers have previously said the two cases were not directly connected, but there were similarities.