MP Nigel Evans' drinking and sex life laid bare in trial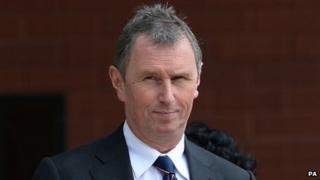 This has been a very public examination of former deputy speaker Nigel Evans' private life.
From the start the Ribble Valley MP strongly denied all the allegations but as the police investigated, the charges clocked up.
During the five-week trial at Preston Crown Court, alcohol lubricated every allegation with one complainant describing the 56-year-old as a "high-functioning alcoholic".
At the 2003 Conservative Party conference in Blackpool, a party official drinking in the Imperial Hotel bar described the MP as being "heavily intoxicated".
'Extraordinarily drunk'
So much so the man claimed Mr Evans inappropriately touched him twice before being led away.
The man told the jury: "I felt it was a drunken letch in a bar." But he added: "It never entered my mind to report it to police."
He was one of three of seven complainants who did not want the MP charged.
Another man who alleged the MP put his hands down his trousers in a bar in Soho, London in 2002 told the court he dismissed the "drunken" incident and also did not consider himself a victim.
He only agreed to make a statement when contacted by police last year.
This was the "inappropriate behaviour of a drunken man," the MP's defence barrister Peter Wright QC argued but not evidence of indecent assault.
But the MP's "drunken over-familiarity" with young men in his circle and his heavy drinking were not disputed.
The court heard a Westminster worker who joined the MP in his constituency in 2009 considered he had a "special relationship" but one which the MP badly misjudged.
The man said Mr Evans was "extraordinarily drunk" in a bar when they returned to his home in Pendleton, Lancashire and the man went to sleep on the sofa.
He said he awoke in the night to find Mr Evans groping him. "It felt," he said, "like a particular betrayal."
Mr Evans told the court the man had been "incredibly flirtatious" and he thought he was interested in him. He admitted making a pass at him but had "misread the signals," adding: "There is no fool like an old fool."
When the man complained to party whips calling for Mr Evans to resign immediately, he said he was told by the then chief whip Patrick McLoughlin "it can't be done" ahead of the general election.
Three other men at the meeting remember it differently and recalled a complaint of sexual harassment rather than assault.
The then deputy chief whip John Randall told Mr Evans he "must apologise immediately, curb his drinking and be careful about it around Westminster".
'Really lovely'
Mr Evans was very popular, even among some of the alleged victims.
Some of the case revolved around the MP's informal attitude towards Westminster staff, but he told the court: "They work with me not for me."
About 100 people have done work experience with him since 2007, among them Georgina Phillips now a student at Liverpool University.
Ms Phillips said: "Nigel was really lovely. He was great."
She said he was "really encouraging", helping her get involved in various tasks and introducing her to numerous colleagues.
The most serious allegation of rape was made by a Westminster worker who stayed at the MP's house after a dinner party last year.
He claimed he had not wanted or invited any sexual contact but got under the covers with Mr Evans after he was "escorted" to his bedroom.
The man in his 20s told the court he woke to find the MP raping him.
Mr Evans told the court that the man had entered the MP's bedroom "of his own free will" and consented to sex which he regretted later.
Just weeks before, Conservative MP Dr Sarah Wollaston had become aware of the alleged sexual assault in 2009.
The Westminster researcher refused to confirm details but, after hearing about the alleged rape, changed his mind.
Dr Wollaston informed Commons Speaker John Bercow. He refused to get involved because it was a police matter. A discreet police inquiry began.
A month later the man reported his allegations to the police sparking a major inquiry and a trial that laid bare the details of the MP's private life.
Mr Evans, who said he was "deeply ashamed and embarrassed" by his arrest, has been supported throughout his trial by friends and colleagues.
They never believed he had done anything wrong and that trust has been vindicated by the jury's decision. But it remains to be seen what damage has been done to the MP's reputation.