Blackburn hospital cable theft stops breast screenings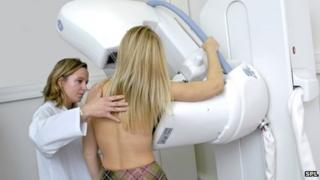 A breast screening programme at a Lancashire hospital has been suspended after a power cable was stolen.
The theft of the 10m (33ft) cable, which powered an X-ray machine in a mobile unit at the Royal Blackburn Hospital, happened overnight.
The unit was due to screen 120 women. Those needing an urgent screening were referred to Burnley General Hospital.
The hospital said it hoped to get a replacement cable and reopen the unit "within the next 48 hours".
'Highly emotional'
Patricia Clarkson, who was due to have a screening, had travelled from Chorley and arranged for someone to cover her work.
"There are time and cost implications to my missing this appointment and the people who stole the cable are a nuisance," she said.
The mobile unit will only be in Blackburn for the next fortnight and staff are concerned that some patients may now miss their appointment.
Sam West, a breast screening specialist at the hospital, said: "It is not just the inconvenience to patients - a lot of those coming today were first-timers and they are already in a highly emotional state."