St Walburge's Preston: Landmark church future 'secured'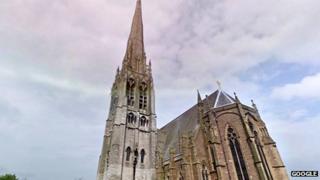 A Preston landmark and Grade I listed building threatened with possible closure has had its future secured.
The Roman Catholic Diocese of Lancaster said St Walburge's Church would get a new lease of life in the autumn.
The Institute of Christ the King Sovereign Priest will run the church which was facing being decommissioned.
The religious order, which specialises in celebrating Mass in Latin, also saved Saints Peter, Paul & Philomena Church, in New Brighton two years ago.
The decision was taken after 12 months of negotiation by Bishop Michael Campbell of Lancaster and Monsignor Gilles Wach, General Prior of the Institute of Christ the King Sovereign Priest, and parish priest Father Simon Hawksworth.
In a letter read to Preston Catholics on Sunday, the bishop said: "The future of St Walburge's Church Preston came into very serious question in the light of much fewer people at Mass in this vast and yet most beautiful church."
The church will cater for Catholics who wish to attend Mass and other sacraments in Latin, under the Tridentine Rite.
The church, which opened on 3 August 1854, was designed by the Gothic revival architect Joseph Hansom.
Hansom, who was once based in Preston, was the inventor of the Hansom cab. He also designed many churches and prominent buildings in Victorian England including Birmingham Town Hall, the Holy Name Church in Manchester and several Roman Catholic cathedrals.
The church's future had been in doubt following a diocesan reorganisation to cope with the falling numbers of priests and church attendees.
It was given a seven-year stay of execution in 2008 and would have closed if no other use for it had been found.