Royal Lancaster Infirmary 'must rectify' staffing issues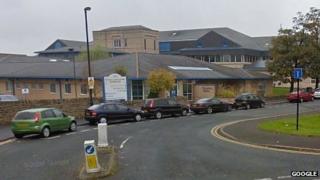 The Royal Lancaster Infirmary must "immediately rectify" staffing issues after an inspection found it had failed to comply with two warning notices.
The Care Quality Commission (CQC) call follows an inspection on 21 January to investigate if problems found in the previous October had been acted on.
"Further regulatory intervention" was also possible, the commission said.
The University Hospitals of Morecambe Bay NHS Foundation Trust said it was "already acting on the findings".
The October inspection found issues with the level of staffing in ward 39, which cares for patients with mixed medical conditions.
The CQC reported that staff shortages were linked to treatment errors and falls, and that patients had to wait too long for help. It then issued two warning notices.
'Work to do'
A spokeswoman said the CQC had "written to the trust to ask them for detailed assurances about how they will immediately rectify the issues of staffing levels on ward 39".
"We have told the trust that immediate action must be taken and are considering the need for any further regulatory intervention on our part," she said.
Executive chief nurse Sue Smith said the new CQC report showed the trust "was already acting on the findings of a previous unannounced visit, and since the report, more progress has been made".
"I spend time on our wards every week and our staff work hard day-in, day-out to ensure services are safe, and standards of care continue to be improved.
"We still have work to do, but have significantly reduced the vacancy levels."
She added that the trust was committed to "being open and transparent" and would soon start publishing monthly staffing levels for all wards "as part of providing further reassurance to the public".