Skerton Community High School in Lancaster to close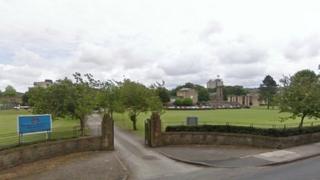 A Lancashire school described as "inadequate" by education inspectors is to close, the county council has confirmed.
Skerton Community High School in Lancaster will shut on 31 August.
Matthew Tomlinson, cabinet member for schools at Lancashire County Council said the decision was due to poor pupil results in the country and "dwindling" pupil numbers.
Lyndon Day, acting head at Skerton, said it would be an "immense loss".
'Found sanctuary'
County councillor Mr Tomlinson said: "We cannot justify keeping open a school where students' results are the worst in the country and the school is in the bottom 10% for helping students to improve.
"Many students are struggling when they start at Skerton and they are still struggling when they leave."
He added: "I am very conscious of the distress and disruption any school closure causes for current pupils and we will do our utmost to help in any way we can.
"But we cannot continue to support a school which does not meet required standards while costing significantly more per pupil than other schools which do."
Mr Day said the news was "very sad".
He said: "We provide a small nurturing school for some very vulnerable pupils and those children will now have to go to other schools."
Emma Wood who joined a campaign to save the school said she was "appalled" and "devastated" at the decision.
She said her son Nathan was a Year 10 pupil and had "found sanctuary" at the school.
"[My son] has been seriously let down by other schools in the area," she said.
"He never thought he would be happy at any school until he went to Skerton."
The school which has fewer than 200 pupils, was described as "inadequate" in an Ofsted inspection report in April last year.