MP Nigel Evans sex abuse trial told he was 'liked by all sides'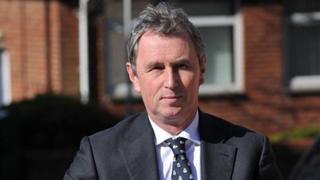 Former deputy speaker Nigel Evans was "liked by all sides" and "scrupulously fair" a peer and former MP who worked with him for 20 years has told a court.
Lord David Alton was among a number of Westminster colleagues who provided testimonials for the MP at his sex abuse trial at Preston Crown Court.
Deputy speaker Lindsay Hoyle said the 56-year-old was a "dedicated, liked and well respected" colleague.
Mr Evans denies rape, two indecent assaults and six sexual assaults.
The Ribble Valley MP is alleged to have committed the offences against seven young men between 2002 and last year.
Lord Alton was a former Liberal Democrat chief whip and MP for Edge Hill and Mossley Hill.
As well as Mr Hoyle, two other deputy speakers, Dawn Primarolo and Eleanor Laing, also gave character references which were read out in court by the defence.
'Considerate, kind and gentle'
Mrs Primarolo said Mr Evans was a "kind and considerate colleague" and a "well liked member of the House of Commons". Ms Laing described him as "a trusted friend".
The court also heard testimonials from MPs Glenda Jackson, John Whittingdale (Conservative), Ann Clwyd (Labour), Liam Fox (Conservative) and Barry Sheerman (Labour) plus ex-MP Ann Widdecombe.
Ms Widdecombe, a former Conservative MP, said she had "no hesitation" in giving Mr Evans a reference.
She said: "He has shown himself to be truthful, considerate, kind and gentle. Such qualities at Westminster are not universal."
Labour MP Ms Jackson referred to Evans' "innate humour" and "sense of fair play" and said he excelled in his role as deputy speaker.
Mr Evans was a Conservative MP before becoming deputy speaker - a politically neutral role - in June 2010.
He has not returned to the Conservatives in the Commons and is representing his constituents as an independent.
The trial continues on Friday.