Blackpool hospital inspection criticises staffing levels and records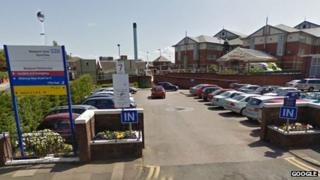 A Lancashire hospital trust has been told by inspectors it has "a long way to go" to reach its healthcare goals.
A Care Quality Commission (CQC) report into Blackpool Teaching Hospitals NHS Trust found a shortage of medical staff in A&E and low staffing levels in other areas.
Handwritten medical records were "very difficult to read" the report said.
But the CQC said it was "cautiously optimistic" that staff could deliver the necessary improvements.
The report also found that the reporting of incidents and "near misses" at the trust was "poor and needed improvement".
Inspectors said they had observed "a lack of hand washing" in some areas and some dirty equipment.
"Good hygiene practices are important to prevent the spread of infection," the report commented.
'Making progress'
The trust runs Blackpool Victoria Hospital, Clifton Hospital and Fleetwood Hospital.
Trust chief executive Gary Doherty said: "As we would expect, the CQC identified areas for improvement, many of which we are already working and making progress on."
A survey of patients using the trust's hospitals found that most were "very happy" or "satisfied" with their care, which the CQC rated as good.
In 2013, NHS England's medical director Prof Sir Bruce Keogh carried out a review of the trust.
It was one of 14 identified as having the highest death rates in 2010-11 and 2011-12.
His report criticised the pace of change at the trust as "too slow" and highlighted a "disconnect" between the leadership team and frontline staff.