Rolls-Royce Barnoldswick jobs under threat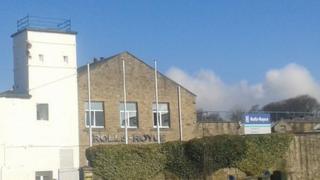 More than 120 jobs are under threat at two plants owned by Rolls-Royce in Lancashire, the BBC understands.
Rolls-Royce said it was reducing costs to "remain competitive" at Bankfield and Ghyll Brow sites in Barnoldswick.
The company said it was in the early stages of consultation and was hoping to avoid compulsory redundancies.
A worker at the Bankfield site, who did not want to be named, said it was a "poor do" but that "most people were expecting it".
Other workers at Bankfield site told the BBC they were unable to comment.
'Changing demands'
In a statement, Rolls-Royce said: "We are working hard to reduce costs across our business to remain competitive.
"We must also react to changing demands from our customers and this has led to a reduced workload in our Barnoldswick facility."
The union Unite has yet to comment.
The BBC understands the firm warned the union 30 jobs were at risk in January.
The two sites, which manufacture aircraft engine parts, have a workforce of more than 1,000.
Rolls-Royce said it acquired the Barnoldswick sites shortly after World War II.