MP Nigel Evans sex abuse trial hears 'Benny Hill' claim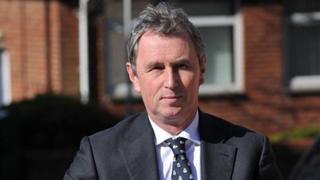 Former deputy speaker Nigel Evans told his sex abuse trial he was being depicted as "a cross between Alan Clark, Benny Hill and Oscar Wilde".
The Ribble Valley MP said claims he sexually abused men were "ridiculous", but had effectively ended his ambitions of becoming House of Commons speaker.
The 56-year-old was being cross-examined by prosecution barrister Mark Heywood QC at Preston Crown Court.
Mr Evans denies rape, two indecent assaults and six sexual assaults.
'Own free will'
He is alleged to have committed the offences between 2002 and last year.
Mr Heywood questioned Mr Evans about the alleged rape of a 22-year-old man after a dinner party at the MP's home in Pendleton, Lancashire last March.
Mr Evans told the prosecutor he initiated kissing and cuddling downstairs before they went to his bedroom "both of their own free will".
The barrister accused him of taking advantage of the alleged victim, to which the MP said: "No, not at all."
Mr Heywood said the young man said he was tired, but Mr Evans said he could not recall this.
The barrister then said the MP recommended sexual activity and the man was passive.
Mr Evans denied it, and later said: "What did he expect when we both got into the bed in our underwear when there were two other bedrooms?
"We both entered my bedroom of our own free will and we had consensual sex."
'Bizarre to bunkum'
Referring to two allegations that Mr Evans had placed his hand in the trousers of men in public, Mr Heywood asked him: "There is evidence in each of these two incidents that what took place was without any eye contact.
"Was this you using hands where words were not available to you?"
Mr Evans replied: "No. It is trying to make me out to be a cross between Alan Clark, Benny Hill and Oscar Wilde. It's ridiculous."
The court heard the MP had no recollection of the two events, one alleged to have taken place in a bar in Soho, London, in late 2002 or early 2003 and the other at the Imperial Hotel bar at the 2003 Conservative Party conference in Blackpool.
He denied he had made a pass on those occasions, and also when with a young man at the Houses of Parliament in 2009.
Mr Evans is alleged to have leaned forward to kiss the man behind a curtain near the Strangers Bar.
The MP said it "goes from the bizarre to the bunkum" that he would do that.
Neutral role
The jury heard him also deny allegations he "cupped" the genitals of another man shortly after being introduced to him in Strangers Bar.
Mr Evans said: "With several people watching? No."
The MP also denied sexually assaulting a Westminster worker in a kitchen near his deputy speaker's offices last March.
Mr Evans was a Conservative MP before becoming deputy speaker in June 2010, a politically-neutral role.
He has not returned to the Conservatives in the Commons and is representing his constituents as an independent.
The trial continues on Thursday.