MP Nigel Evans denies rape and sex assaults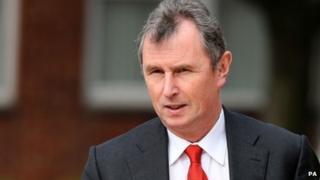 Former deputy speaker Nigel Evans entered the witness box at his trial and told a jury he had not raped or sexually assaulted anyone.
The Ribble Valley MP denies one count of rape, two counts of indecent assault, five counts of sexual assault and an attempted sexual assault.
Earlier, the judge Mr Justice King told the jury at Preston Crown Court to clear him of one sexual assault charge.
He said jurors should consider a charge of attempted sexual assault instead.
'Made an approach'
When asked by his barrister Peter Wright QC about the "principal allegation" that he raped and sexually assaulted a 22-year-old man at his home in Pendleton in his Ribble Valley constituency, he admitted having sexual intercourse with him but said it was "absolutely with consent".
Referring to another allegation at Mr Evans's home, in July 2009, Mr Wright asked the defendant whether he sexually assaulted a young man on his sofa.
The 56-year-old admitted making an "approach" and touching the complainant but he desisted when the man "exploded" and said no.
Mr Wright asked him: "Was there any further attempt to engage in sexual activity?"
Mr Evans laughed and replied: "No. Not only not on that night but never again."
His barrister asked him: "Have you sexually assaulted anyone in terms of the allegations set out here, Mr Evans?"
The MP replied: "No, Mr Wright."
Mr Wright then asked: "Have you raped anyone?"
He repeated: "No, Mr Wright."
Allegation 'absurd'
The court heard Mr Evans had "absolutely" no recollection of putting his hand down the trousers of a young man in a Soho bar in late 2002 or early 2003 or doing it to another man at the Imperial Hotel, Blackpool, during the 2003 Conservative Party conference.
The MP also denied making a pass at another complainant outside Strangers' Bar at the Houses of Parliament or to another young man in a kitchen area near his Deputy Speaker office.
Mr Evans described the allegation that he used his hand and "cupped" the genitals of a young man he had been introduced to in a bar at the House of Commons as "absurd".
The defendant is alleged to have carried out the attacks on seven men between 2002 and last year.
Mr Evans was a Conservative MP before becoming deputy speaker of the House of Commons in June 2010, a politically neutral role.
He has not returned to the Conservatives, instead representing his constituents as an independent.
The trial continues on Monday.