Blackburn A&E gets full-time police presence after assaults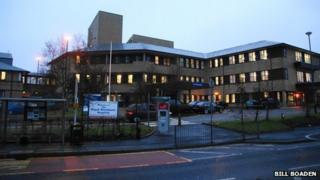 Two police officers are to be stationed full time at the A&E department of a Lancashire hospital to reduce assaults and verbal abuse of staff.
Royal Blackburn Hospital said it called police an average of 100 times a month last year to deal with problems.
These usually involved patients with "alcohol and substance misuse or mental health problems", the hospital said.
The project is costing £80,000 and its success will be reviewed after a year, a spokesman said.
The cost is being met jointly by Lancashire Police, local health trusts and Blackburn with Darwen Borough Council.
Missing persons
Ch Insp Justin Srivastava said it was not about providing "a security presence in A&E".
"These two officers will be highly skilled individuals trained to identify complex frequent attenders at A&E who can benefit from other services," he added.
As well as dealing with assaults on staff, the officers will also help find people who "voluntarily disappear" from A&E, sparking a search for a high risk missing person, the hospital said.
Kathy Parker, operational manager for the Royal College of Nursing in the North West, said: "It's important that hospitals are safe environments for both patients and staff alike.
"Challenging behaviour can make it difficult for staff to carry out their clinical and caring role.
"The RCN has pressed NHS employers to create positive environments where staff can better deliver compassionate care.
"This new and positive step forward will help reduce both risk but also some pressure on A&E at Blackburn."
The officers will start work on Tuesday, 1 April.