Tasered blind man: PC Stuart Wright ordered to apologise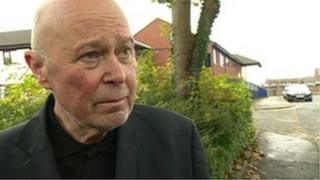 A police officer who Tasered a blind man after mistaking his white stick for a samurai sword has been ordered to apologise in person.
Colin Farmer was hit by the stun gun in Peter Street, Chorley in October 2012.
A Lancashire Police gross incompetency hearing also recommended PC Stuart Wright be given a performance improvement notice.
Mr Farmer is planning a civil action and said an apology would be "crocodile tears" and "too little too late".
'Terrifying ordeal'
"I've not had any justice - it nearly killed me, I nearly left all my children behind me, for what? Being blind and having a stick," he said.
The Independent Police Complaints Commission (IPCC) said Mr Farmer has been through "a terrifying ordeal".
The 63-year-old was walking to a pub to meet friends when he was struck by the weapon.
Mr Farmer, who is registered blind, said he fell to the ground under the force and thought he was being attacked by thugs.
According to the IPCC report, Mr Farmer was then handcuffed while on the ground and not released until the arrival of another officer, who PC Wright told: "I think I've got the wrong person."
The report said the police officer had "used a level of force on Mr Farmer that was unnecessary and disproportionate".
'Should have listened'
Mr Wright also failed to take "reasonable steps" to establish if Mr Farmer was carrying a sword prior to discharging his Taser and ignored instructions and radio transmissions about how officers were to search the area, according to the findings.
Mr Farmer said of the attack: "I thought [that] any nanosecond I'm going to be killed and there's no-one to help me - I will never survive."
IPCC Commissioner James Dipple-Johnstone said: "Our view was that PC Wright could and should have listened to instructions from his force controller and taken greater steps to ascertain whether Mr Farmer was the sword-carrying man that had been reported by members of the public.
"When he realised his mistake [he] should have acted quicker to put things right."
In August, the Crown Prosecution Service (CPS) decided no criminal charges were to be brought over the incident.
A 27-year-old man was arrested on suspicion of being in possession of an offensive weapon, but on the advice of the CPS was released without being charged, Lancashire Police said.