Joey Barton bottle-throwing suspect has charges dropped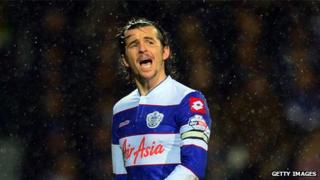 A man accused of throwing a bottle at footballer Joey Barton during a match has had the case against him dropped.
The Crown Prosecution Service said it had concluded it was impossible to prove who had thrown the bottle.
The plastic bottle struck Queens Park Rangers midfielder Barton on the head during the second half of the game away to Burnley at Turf Moor on 26 October.
John Pounder, 26, of Cedar Avenue, Haslingden, was charged with throwing a missile on to a football pitch.
A CPS spokesperson said: "John Pounder was initially charged by the police with threatening behaviour and throwing a missile on to a playing field at a football match between Burnley FC and Queens Park Rangers FC.
"After receiving a file of evidence from the police the CPS reviewed all the evidence in the case including the CCTV of the incident and concluded that it was not possible to prove from the CCTV images who had thrown the bottle.
"For that reason there was no longer a realistic prospect of conviction and following consultation with the police the CPS discontinued the case."