Nigel Evans trial: Alleged victim denies consensual sex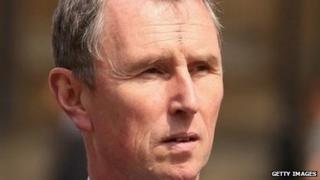 A man who claims the former deputy speaker Nigel Evans raped him, told a jury he did not agree to have sex with the MP.
The man, in his early 20s, alleged he woke up to find Mr Evans on top of him and was raped as he lay "in shock".
The incident is said to have taken place after a dinner party at the MP's Ribble Valley constituency home.
Mr Evans, 56, denies one rape, two indecent assaults and six sexual assaults, at Preston Crown Court.
On Wednesday, the complainant, giving evidence behind a screen, admitted it was "a bad decision" to get into bed with the Conservative MP and it was "stupid" in hindsight.
Peter Wright QC, defending, asked him what he thought about the incident.
The man replied: "I rationalised it that I have known this man for 18 months, [and] we have only had one slight incident that was inappropriate. We were also friends and I had shared beds with friends and it never meant anything sexual."
The barrister responded: "But those friends were not a middle-aged man who was openly gay?"
"No," the complainant replied.
The witness described himself as being "between tipsy and drunk" when alone with Mr Evans after a dinner party in Pendleton, Lancashire.
He described how the MP put his arm around him and topped their drinks up, as the defendant sat close to him on a sofa.
But the witness denied he had picked up that "the warning signs that this might be spiralling out of control" and said he did not say anything because he wanted to avoid an "awkward situation".
"You could have stopped it there and then, couldn't you?" asked Mr Wright.
The complainant responded: "Other people could maybe. I couldn't."
'No flirting'
Mr Wright suggested that "there had been some kissing that took place" before they went to bed, to which the witness replied: "That is pure fiction."
"You did not say 'this is not my bedroom'," the counsel asserted.
"I wish I had," the complainant replied.
Mr Wright continued: "After crossing the threshold with nothing said between you and the lights off, you must then have realised that there was indeed a situation that may indeed lead to some form of sexual intimacy?"
"I am going to suggest there was intimacy downstairs and you went upstairs to carry on," he added.
"That's not true," the witness responded.
The barrister questioned why the man got into bed with Mr Evans, why he left the bedroom three times and why he never said "no".
He added: "You have not said 'no,' you have not said 'leave me alone' you haven't said 'I don't want to do this.'"
The alleged victim replied: "No, but I didn't do anything flirtatious."
The trial has been adjourned for the day.