Nigel Evans trial: Man woke up with MP's 'hands all over him'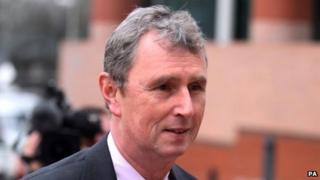 A man woke up to find MP Nigel Evans' "hands all over him", a court has been told.
The man told Preston Crown Court that the Ribble Valley MP sexually assaulted him while he was asleep on a sofa at Mr Evans' house in 2009.
However, the man told jurors he had not been keen to report the matter to police.
Former deputy speaker Mr Evans denies one count of rape, two of indecent assault and six of sexual assault.
The complainant, who cannot be named for legal reasons, alleges the MP put his hand in his boxer shorts as he slept in July 2009.
The court heard Mr Evans apologised after the alleged victim, who works at Westminster, told Tory whips.
The jury was told the MP said: "Sorry, I had misread the signals."
When it was put to the alleged victim under cross-examination by Peter Wright QC, defending, that he apologised for sending Mr Evans misleading signs, he denied saying this.
The man, told the court he was "alarmed an off-the-cuff remark" in a bar about the incident ended up being referred to the Speaker of the House of Commons, John Bercow.
'All-round good egg'
Mr Wright told the court that, after a few drinks, the complainant had made a "throwaway" remark to the Conservative MP for Totnes Sarah Wollaston, who referred the matter to Mr Bercow.
The court was told Mr Bercow said because the alleged assault had not happened on the "parliamentary estate", it was a matter for police.
The alleged victim told the court he had been "professionally uncomfortable" about reporting the assault.
When asked by Mr Wright if he had felt backed into a corner, the man answered "slightly".
The man accepted 56-year-old Mr Evans had "commendable qualities" and had described him as an "all-round good egg" in 2012, the court heard.
The alleged offences, involving seven complainants, are said to have taken place between 2002 and 2013.
Mr Evans was a Conservative MP before becoming deputy speaker in June 2010, a politically neutral role.
He has not returned to the Conservatives in the Commons and is representing his constituents as an independent.
The trial continues.