Nigel Evans trial: MP 'could not quit before election'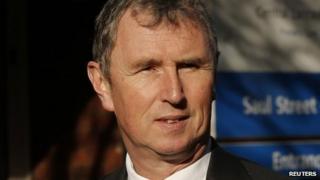 A young man who demanded MP Nigel Evans resign after an alleged sexual assault was told "it can't be done" before the general election, a court heard.
Mr Evans, 56, who denies rape and eight other charges, allegedly put his hand into the man's boxer shorts as he slept at his Lancashire home in July 2009.
Two days later the man met ex-Tory chief whip Patrick McLoughlin, in the Commons, Preston Crown Court heard.
He claimed Mr McLoughlin said a resignation would be hard to explain.
Ribble Valley MP and former deputy speaker Mr Evans denies one count of rape, two of indecent assault and six of sexual assault.
The young man, who cannot be named for legal reasons, said he told Mr McLoughlin, now the Transport Secretary, along with John Randall MP and Iain Corby, a Conservative policy researcher, about the incident at the meeting.
"Mr McLoughlin's reaction was one of mainly irritation, he sighed and huffed and blew the whole time," the witness told the court.
"He said, 'so what do you want to happen now?'.
"My response was that I thought Mr Evans should resign from his seat as MP for Ribble Valley. I believe I said 'immediately'.
"Mr McLoughlin said, 'it can't be done'.
The witness then told the court Mr McLoughlin had told him, "the timing is not right".
He added that he told him: "'I would find it very difficult to explain why an MP is leaving his seat at this point before a general election. He has no immediate family that we can pass it off on'."
Mark Heywood QC, prosecuting, asked: "Pass it off on?
The lawyer added: "Wants to spend more time with his family?"
The witness replied: "Exactly."
'That's just Nigel'
Mr Randall, who was then deputy chief whip, asked what the "issues" were with Mr Evans.
The witness told the court he replied that Mr Evans had a "massive issue with his own sexuality" as the MP at that point had not publicly come out as being gay, though it was an "open secret" in Westminster.
He continued: "I said that alcohol was a massive problem."
The witness added: "He was a high-functioning alcoholic.
"He was drinking every day."
Earlier in the day, a former Conservative councillor told the jury he saw a man "thrashing around" to get free from Mr Evans on a night out in a Blackpool bar during the 2003 Conservative Party Conference.
Mark Famosa told Preston Crown Court he had to push Mr Evans off the alleged victim.
He said that when he asked a colleague what was going on he was told "that's just Nigel".
The charges relate to incidents involving seven men, between 2002 and 2013.
The case continues.