Nigel Evans trial: MP had to be 'pulled away from young man'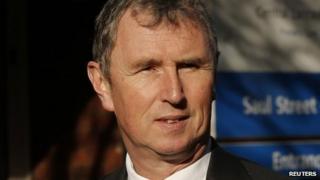 A former Conservative councillor told a court he saw a man "thrashing around" to get free from MP Nigel Evans on a night out in Blackpool.
Mark Famosa told Preston Crown Court he had to push Mr Evans off the alleged victim in a bar in the resort during the 2003 Conservative Party conference.
He asked a colleague what was going on and was told "that's just Nigel".
The Ribble Valley MP denies one count of rape, two of indecent assault and six of sexual assault.
The charges relate to incidents involving seven men, between 2002 and 2013.
Mr Famosa told jurors Mr Evans was getting "closer and closer to the young man, uncomfortably close in my view" and that his nose was almost touching the alleged victim's nose.
'Hand down trousers'
He said: "I saw the younger man thrashing around very violently from side to side trying to wrench himself free from Mr Evans' grip.
"Mr Evans had his hand down the front of his trousers and was maintaining his grip and it seemed obvious that the younger man was not able to get him off him.
"I intervened, along with several others, in order to assist the younger man to get Mr Evans off him.
"We pulled him off and pushed him back towards the bar."
Under cross-examination, it was suggested to Mr Famosa he was making the whole story up and only came forward after Mr Evans was arrested, to which he replied: "I've told you what I saw."
He was then asked if he was enjoying his moment in the spotlight, but answered: "That's not true."
At the time Mr Evans was the shadow secretary of state for Wales.
'Over-friendly'
Jurors were told Conor Burns, the MP for Bournemouth West, "witnessed the aftermath" of the alleged assault.
Mr Burns told the court he was not in the bar at the time and because it was more than 10 years ago he had forgotten most of what had happened.
He said the alleged victim told him "Nigel was being over-friendly and inappropriate".
Mr Burns said: "I went to find Nigel and I suggested to him it was very late and it might be a good idea if he called it a night."
He told the jury he walked Mr Evans out of the bar and told the alleged victim that the MP had left and he could go back to his friends.
Mr Burns said the conference was during the Iain Duncan Smith "crisis leadership" years, shortly before Michael Howard became party leader.
'Less socialising'
After that Mr Evans stood down from the shadow cabinet, but Mr Burns said this move was nothing to do with the incident in the hotel bar.
Instead, Mr Evans, who sought advice from Mr Burns, intended to run for the position of deputy speaker, with his focus on a career in Parliament rather than in government.
Mr Burns advised him to spend more time with MPs, whose votes could elect him to the position of deputy speaker, and less time "on the terrace and surrounded by too much socialising".
Under cross-examination, Mr Burns said he told police he had the "vaguest of recollections" which were "very hazy" and he did not think his memory was clear enough to help them.
Police contacted him a second time and he repeated that his memory of the event was not "robust" enough to give a "meaningful statement".
He decided to write a statement after taking legal advice when police had approached him a third time following a further conversation with the Crown Prosecution Service.
Mr Evans resigned as deputy speaker of the House of Commons, a politically neutral role, after he was charged last September.
He has not returned to the Conservatives in the Commons and is representing his constituents as an independent.
The case continues.