Warning Lancashire homes at risk of flooding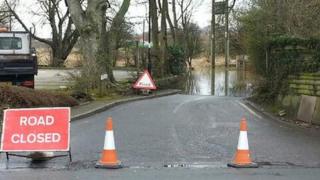 Homes across the Lancashire coast could be at high risk of flooding due to high tides, the Environment Agency warned.
The Wyre and Lune estuaries could flood and very high tides were predicted for North Morecambe Bay and the coast at Heysham and Sunderland.
A red warning was in place until 14:00 GMT, meaning flooding was expected and advising people to take action.
Some roads were closed for a time but the water did not affect homes, police said.
Wyre Road in Thornton was closed due to flooding at about 13:00 GMT, Wyre Council said.
The Environment Agency is due to update its warnings ahead of high tides later.
People were urged to move themselves, pets and valuables to a safe place.