Proud Preston honours football legend Sir Tom Finney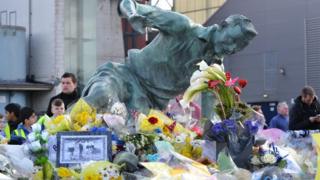 Everyone seemed to have a story to tell about Sir Tom Finney, the former Preston North End and England footballer who died earlier this month aged 91.
His appeal crossed generations. from grandparents who saw him dazzle in his 1950s pomp, to the youngsters who only caught black and white footage of his genius on YouTube.
As fans packed the streets near the club's Deepdale Ground, there were ripples of applause as the cortege headed towards Preston Minster.
Children were permitted to leave school, while tools were downed on building sites and even the nearest firefighters formed a guard of honour for the man who made Preston proud.
Inside the stadium, thousands viewed the funeral service on giant screens, as silent as the VIPs who packed the pews at the minster.
Known as the "Preston Plumber" Sir Tom worked as plumber during his career and ran a plumbing and electrical business.
Electrician Paul Noon, 50, proudly wore a Preston shirt with Sir Tom's autograph across the front.
"He signed it for me as I used to work for him for 24 years," said Mr Noon.
"He was a great gaffer."
Joan Barnes, 76, who saw her first North End match in 1948, also recalled how Sir Tom always had time for the fans.
"He never refused an autograph. I used to work at the Royal Ordnance Factory at Euxton and one day he came to visit us.
"One girl who was a friend of mine asked him for an autograph saying she was a Blackburn Rovers fan. She was totally bowled over by him."
People recalled meeting Sir Tom in the supermarket or chatting to him on matchday.
Teacher Ian Forbes brought a group of pupils from Ashton Community Science College with a floral tribute to lay at the ground.
'Mr Preston'
David Kelly, whose father Alan played in goal for Preston North End in the 1964 FA Cup Final, said his brother had been chosen as a pallbearer at the funeral.
"My brother was very honoured, he didn't know until this morning... It was a very moving service," he added.
Preston-born youth team player Sam Livesey said: "My granddad told me lots of stories about him - he was Mr Preston."
Thoughts also turned to how the current generation could earn their place in the club's history.
"I hope we can win promotion to the Championship for Sir Tom," said Jess Coyne, 14.