Burnley Bridge Business Park officially opens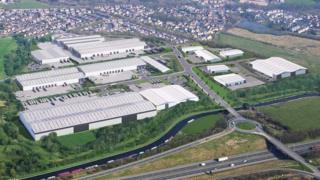 The £50m Burnley Bridge Business Park has been officially opened by Business Secretary Vince Cable.
The 70-acre (28.5 hectare) development is linked to the M65 by a new bridge at junction 9 over the Leeds and Liverpool canal in Padiham.
Leeds-based developers Eshton Ltd said the park could generate 1,400 jobs.
Mr Cable said Burnley, which was voted the most enterprising area in the 2013 Enterprising Britain Awards, was enjoying a "real renaissance".
He praised the "spirit of enterprise" after a tour of the business park and said it was encouraging to see the growth taking place in Burnley.
"It has weathered the years since the financial crash well and manufacturing in the town is now enjoying a real renaissance."
"This development... shows that our industrial strategy is giving companies across the UK as well as here in Burnley the confidence to invest, to secure jobs and play their part in contributing towards a stronger economy," he said opening the development.
The building of a 29,000 sq ft (2,695 sq m) warehousing unit, which will accommodate between two and six businesses, and a 64,100 sq ft (5,955 sq m) building have so far been completed.