Teenager, 16, jailed for fatal punching David Hutchinson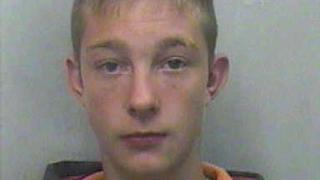 A teenage boy who punched a 63-year-old man from behind, causing him to fall and suffer a fatal brain injury, has been jailed for three years.
Retired council worker David Hutchinson was walking to a shop late on 15 June last year in Nelson, Lancashire.
Lukas Karpavicius, who was walking with friends after a party, threw a punch and bragged about his "first knockout", the court heard.
The 16-year-old had earlier admitted manslaughter at Preston Crown Court.
Judge Anthony Russell QC, sentencing, said Mr Hutchinson had the "misfortune" of coming into the path of the drunken defendant while going to buy headache tablets.
The court heard he was struck with such force that he suffered a broken right jaw. As he fell he fractured the left side of his skull near the eye socket which caused bleeding to the brain.
'Aggressive intent'
Mr Hutchinson was conscious when paramedics arrived, but his condition deteriorated and he died in hospital about three weeks later.
Karpavicius, who was arrested at his home in Nelson, claimed Mr Hutchinson swore at him and it caused him to react.
But the court heard Karpavicius's friends suggested that he had "formed an aggressive intent" and for no apparent reason he crossed the road to talk to Mr Hutchinson.
Nicola Gatto, defending, said the teenager was genuinely remorseful and admitted the offence at the earliest opportunity.
Following sentencing, Mr Hutchinson's 86-year-old mother said: "I want to ask that young man what he intended to do when he walked up and hit him.
"I want him to know that he has ruined my life and to think about the effects of his actions on me and my family."