Sir Tom Finney's family offered civic funeral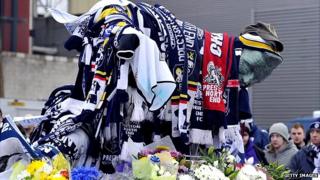 Council leaders say they will leave it to the family of former Preston North End footballer Sir Tom Finney to decide whether he should have a civic funeral.
Preston City Council leader Peter Rankin said Sir Tom's family had been offered an official send off for 91-year-old who died on Friday.
A civic funeral would involve officials wearing ceremonial dress and a possible drive past PNE's Deepdale ground.
Books of condolence have opened at two locations in the city.
They are available for people to leave messages at Preston City Hall and the Harris Museum and Art Gallery.
An online book of condolence has also been opened for Sir Tom, who played 76 times for England and spent his whole 14-year career with his home-town club.
Mr Rankin said: "If anyone deserves a civic funeral it is Sir Tom but it is up to the family really."
The last person to receive a civic funeral in the city was Councillor Tom Burns, in January. He was given a civic funeral "because of the great respect and enormous affection Tom was held in by his fellow councillors", Mr Rankin said.
A crowd of 13,440 attended Preston North End's home match on Saturday, almost 4,000 more than Preston's average for the season, to pay tribute to a man regarded as one of England's finest footballers.
Players wore special shirts with Finney on the back instead of their own names.