Blackpool 'early morning' alcohol ban rejected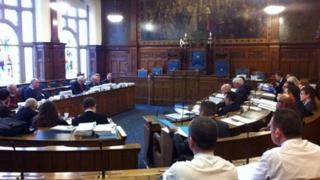 A ban on selling alcohol between 03:00 and 06:00 at pubs and clubs in Blackpool town centre has been unanimously refused.
Blackpool Council's licensing committee concluded an Early Morning Restriction Order (EMRO) would not have a "positive impact" on violent crime overall.
A number of recommendations were made including increasing policing levels.
The council, which submitted the application, and Lancashire Police said they were "disappointed" by the vote.
A small area of the town centre accounts for 13% of all violent crime in Lancashire, the hearing was told.
An EMRO was proposed for Queen Street and Market Street, which would have affected about 22 of more than 1,300 licensees in the town, but the licensing committee said an EMRO was "not appropriate".
A recommendation was made for a Night Time Economy Working Group to be set up with the police, the council and trade organisations to monitor crime and disorder.
It was also recommended additional police officers focus on areas of crime and disorder.
Simon Blackburn, leader of Blackpool Council, said: "The council will now need to focus its efforts on examining other ways in which the huge problems caused by late night drinking can be tackled."