Morecambe Bay cockle pickers remembered at music event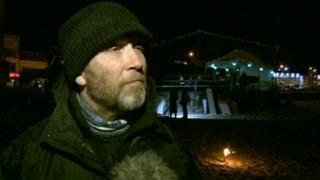 A music and arts event has been held to commemorate the 10th anniversary of the Morecambe Bay cockling tragedy.
Residents gathered at the town's North Beach to remember the 23 Chinese cockle pickers who died working for criminal gangmasters in 2004.
A bonfire in the shape of a boat was lit, there was music, singing and food and drink stalls.
Kim Leong, of the Morecambe Chinese Community Association, said the tragedy was "still fresh in people's minds".
He added: "This must never happen again, it's a mindless loss of life."
Event organiser Pete Moser, of the More Music group, said: "It seemed a fitting thing to do on the eve of the tragedy, to remember those people."
In November a sculpture of a praying man overlooking Morecambe Bay, titled The Praying Shell, was unveiled at Bolton-le-Sands.