Blackpool council debate 'early morning' alcohol ban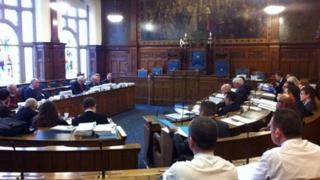 A ban on selling alcohol between 03:00 and 06:00 GMT at pubs and clubs in Blackpool town centre is being debated by the council.
Blackpool Council's licensing committee is considering the application by Lancashire Police for an Early Morning Restriction Order (EMRO).
The force said it was "a viable tactic" to reduce alcohol-related crime.
But Peter Bowden, who owns Club Sanuk, said he was concerned about the impact on tourism.
He said the problems were at "three in the afternoon and not three in the morning".
"The things that affect families and make people feel insecure in the town are the problems of drunken people in the daytime," he said.
"We want to see the police dealing with those problems."
Mr Bowden said Blackpool is competing with London, Brighton and Prague and would be "at a disadvantage" if its bars closed early.
The EMRO would cover Queen Street and Market Street. It would affect around 22 of more than 1,300 licensees in the town.
The barrister for the police, Philip Kolvin QC, told the hearing that the area, which makes up 5% of the town centre, was where 25% of all violent crime occurred between 03:00 and 06:00.
Blackpool's public health director Dr Arif Rajpura told the hearing a restriction order on alcohol sales after 03:00 was "a no-brainer."
A small area of the town centre accounts for 13% of all violent crime in Lancashire, the hearing was told.
The hearing will run until Friday at Blackpool Town Hall. A decision on whether to grant the EMRO is expected by March.