Morecambe Bay cockling disaster's lasting impact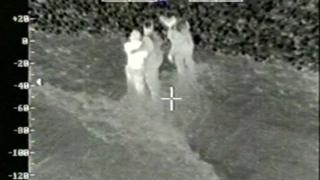 The deaths 10 years ago of 23 Chinese cockle pickers who were searching for a "better life" has had a lasting effect on all those associated with the disaster in Morecambe Bay.
The events of that night left indelible memories for everyone involved - from the sole Chinese survivor and witness - to the lifeboat crew who found themselves confronted by a "sea of bodies".
On 5 February, Chinese cockle pickers were at work in the dark but facing the incoming tide.
A rescue operation began after one cockler, Guo Bing Long, called 999 and told police: "Sinking water, many many, sinking water... Sinking water, sinking water."
The RNLI searched the waters to find the cocklers.
The sole survivor
One of them, Li Hua, was within seconds of becoming a victim.
He said: "The water covered the wheel and the vehicle couldn't move. Everyone was panicking, they got out of the vehicle and tried to swim.
"But the water was flooding so quickly some were dragged right away under the water."
Mr Hua said: "It was pitch black and I was desperate. I thought I might just as well wait to die.
"I was just numb…..then, I don't know how, a wave maybe turned me round.
"I was on my own... And then a helicopter came," he said.
He said he "kept waving" at the helicopter.
Mr Hua said: "I could not believe I was being rescued and I was alive again."
Almost a decade after the disaster, Mr Hua said he still has panic attacks.
He said: "I think a lot about those who didn't survive, particularly at Chinese New Year, because it happened around that time.
"From time to time I wake up in the night with a panic attack and remember them.
"We all came for the same reason. We left our families to make a better life. And they were gone just like that. I was just lucky."
Mr Hua was speaking to the BBC under the protection of the government's UK Protected Persons Service.
His evidence helped convict Lin Liang Ren of 21 counts of manslaughter, facilitating illegal immigration and perverting the course of justice.
In March 2006, Ren was jailed for 14 years at Preston Crown Court.
Mr Hua agreed to be interviewed and talk about the disaster almost 10 years on.
"My family are all healthy and we are happy. We do not have a lot of money but we are happy to go through each day peacefully and I am very thankful... And glad to be alive," Mr Hua added.
The widow
Widow Lin Meiqin, who lives in China's Fujian province, has never remarried after her husband Lin YouXing died in the bay at the age of 38.
She said: "I still think about him... When he died it was such a loss.
"Sometimes I think if he hadn't died I would live a better life."
The RNLI
Morecambe's RNLI crew worked for 22 hours during the search and rescue operation.
Michael Guy, lifeboat operations manager was on duty that night.
"Our thoughts really are of sadness for the families. The only contribution we made to the families is that because we did recover the people we gave them some closure - rather than people being lost at sea."
He said the team on the hovercraft covering Arnside in Cumbria began their "normal search patterns" when they made the grim discovery of the bodies.
Mr Guy said: "At that stage they effectively came into a sea of bodies.
"It was very harrowing. Apart from the senior hovercraft commander, many of the crew on that particular night on the hovercraft hadn't seen bodies in the water before."
"So it had a lasting effect on them," he added.
The police
The detective who led the investigation into the tragedy said the deaths had "lived with him" ever since.
Mick Gradwell, who has retired from Lancashire Police, said: "You're thrown into investigating international organised crime gangs, snakeheads, triads, international human trafficking.
"We dealt with the people who were responsible for the deaths on the night.
"But we did not make any dent into these wider criminal gangs who traffic people around the world," he said.
Mr Gradwell claimed other similar disasters could still occur because people are willing to exploit the poorest in society for their own ends.
"There is a constant threat and risk of people being abused like this and dying because they're being forced to work in dangerous conditions," he added.
Inside Out is broadcast on Monday 3 February at 19:30 GMT on BBC One North West and nationwide for seven days thereafter on the iPlayer.