Blackpool council 'vindictive' over lease 'retaliation'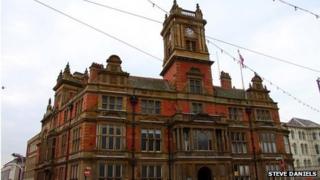 Blackpool council was "vindictive" when it turned down a lease extension for a solicitor who had represented people suing the authority, a judge has ruled.
Joanna Trafford and her firm North Solicitors helped trip accident victims seek compensation from the council.
The council was her landlord and refused to renew her lease at New Blackpool Enterprise Centre, a move the judge said was "pure retaliation".
It said it was "bitterly disappointed" the Appeal Court ruled in her favour.
Ms Trafford appealed against the decision and took it to the court in Manchester.
Judge Stephen Davies said the council was so aggrieved "by what it regarded" as Ms Trafford's unacceptable conduct, it decided to "retaliate by seeking to terminate that tenancy as soon as it could."
"It was determined to send a message to [Ms Trafford] that the [council] was not prepared to sit back and do nothing in the face of such conduct," the judge said.
"It was, in short, I find, an act of retaliation, pure and simple, to "punish" [Ms Trafford's] firm by causing it some difficulty and inconvenience."
'Scarce resources'
The three-year lease expired last June, the court heard, and the council allowed her to remain while the matter was settled.
The judge said it was "irrational, capricious, vindictive" and sought to punish someone who "has acted lawfully."
The court heard the council had one tripping accident claim in 2010 - but by 2012 the numbers had risen to well over 100.
The Law Society, which supported Ms Trafford, said there was "no conceivable basis" on which she could be criticised for acting entirely within the law to enable genuinely injured claimants "to obtain just compensation" from the council.
The authority's lawyers said it was entitled to view the activities of her firm as "a drain on its scarce resources" and the decision not to renew her lease was a "purely private matter" between landlord and tenant.