New £9m Urgent Care Centre to 'transform' Burnley care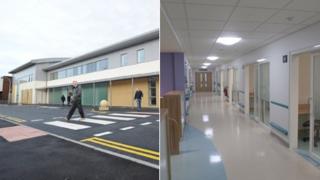 A £9m Urgent Care Centre at Burnley General Hospital has opened to patients.
The new facility, which deals with non-life threatening conditions, replaces buildings "built in the 1960s and 1970s", East Lancashire NHS Trust said.
Last year, the old unit treated about 51,000 people.
The building also houses The Rainbows Centre, which will provide care for disabled children. It includes sensory rooms and a large physiotherapy area.
Val Bertenshaw, the director of operations at East Lancashire Hospitals NHS Trust, said the new build would "transform the environment for our patients".
The hospital lost its accident and emergency (A&E) department in 2007, with 999 emergency calls taken to the neighbouring Royal Blackburn Hospital.