Runaway Stonyhurst pupils 'withdrawn' from school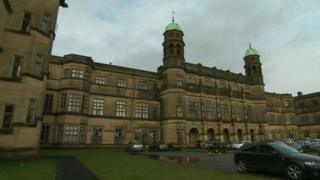 Two pupils who ran away from a Lancashire boarding school to the Caribbean have left the school.
Stonyhurst College students Edward Bunyan and Indira Gainiyeva, both 16, were found last Sunday in the Punta Cana area of the Dominican Republic.
They are believed to have taken a taxi to Manchester Airport in the early hours of 13 January.
Stonyhurst head teacher Andrew Johnson said it was "untenable" to let them return to the school.
In a statement, Mr Johnson said: "After what they have done, their children's position at Stonyhurst is untenable.
"The parents will, therefore, be withdrawing their children.
"Both young people have expressed their regret for the trouble they have caused, and both families wish to thank the police and other authorities for assisting them in finding their children safe and sound.
"The two young people now ask to be left alone to make a new start at a new school."
Stonyhurst College is an independent fee-paying boarding and day school founded in 1593.
Overseas and UK children aged 13 to 18 are taught there with annual boarding fees of about £30,000.
There are 468 pupils at the school, of whom 310 are boarders.