Blackburn siblings jailed over gay partner kidnap plot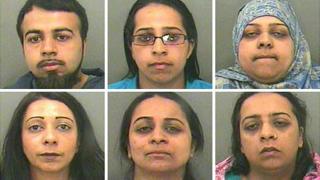 Several members of a family who attempted to kidnap their sister's gay partner have been jailed.
The attack, which happened in June last year, was caught on CCTV in Blackburn near where Nazma Ditta's partner worked.
Preston Crown Court heard the woman was walking down a town centre street when some of the sisters punched her and attempted to bundle her into a car.
The prosecution called it a brutal, planned group action.
Tamoor Ditta, 26, admitted several charges including conspiracy to commit actual bodily harm and attempted kidnap. He was sentenced to six years in prison.
Ghazala Ditta, 31, Aftah Ditta, 32, and Nighat Morris, 39, were all sentenced to five years and four months in prison after admitting conspiracy to commit actual bodily harm, attempted kidnap and robbery.
Tosif Ditta, 34, and Nayyar Mehmood, 38, were both sentenced to three years and six months in prison after admitting conspiracy to commit actual bodily harm.
The court heard the attack was planned by the family on social media because they objected to the relationship and wanted their sister to continue in an arranged marriage.
Prosecutors said after Nazma left home to move in with her girlfriend, she received a text from her brother saying: "I am dead to you, delete my number."
The court heard during the attack in the town centre, one of the sisters told Nazma's partner: "You've messed with the wrong Muslims, we're going to kill you."
She prevented herself from being dragged into the car by holding on to the side of the vehicle.
Det Sgt Mark Haworth-Oates said: "This has been a particularly difficulty case for the victim and her partner given the familial link.
"The family clearly worked together to plan this despicable offence that was guided by their feelings of misguided honour."
Sophie Lorimer, from the Crown Prosecution Service, said: "The defendants lay in wait for almost an hour before they managed to grab and attack the victim.
"Fortunately, due to the bravery of the victim, they did not succeed in the kidnap attempt as she found the strength to defend herself".