Queen to host Maundy service at Blackburn Cathedral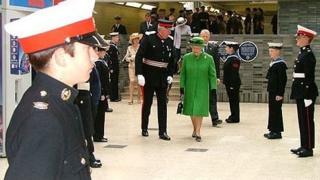 The Queen is to visit Blackburn Cathedral for the first time for the Royal Maundy Service, Buckingham Palace has announced.
The Queen will be accompanied by the Duke of Edinburgh at the cathedral for the Maundy service on 17 April.
She will be carrying out the annual tradition of handing out 88 coins, to mark her age, to men and women aged over 70 from Lancashire.
The Queen last visited Blackburn in May 2006.
Every year the monarch visits a UK cathedral or abbey to give out special coins on Maundy Thursday in recognition of people's service to their community and church.
'Honour and privilege'
The tradition dates back to the 13th Century.
Bishop of Blackburn, the Rt Rev Julian Henderson, who was appointed in October, said it was wonderful in his first year in the diocese to be able to welcome the Queen.
He said: "Normally people visit Her Majesty to receive honours so it is symbolic that this is the only occasion that the Queen travels to make an award."
He added the occasion was an "honour and privilege" for the county.
The service will be by invitation only.