Queen appoints first woman as constable of Lancaster Castle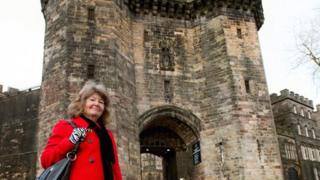 A woman has been appointed constable of Lancaster Castle for the first time by the Queen, more than 600 years after the role was created.
Pam Barker succeeds Gordon Johnson in the post which dates back to 1400 according to the Duchy of Lancaster, the Queen's private estate.
The former head teacher said the appointment was "a huge honour".
Constable duties are mainly ceremonial but include holding keys to Lancaster Castle on behalf of the monarch.
Mrs Barker, who was previously the head teacher at Lancaster Girls' Grammar School, said: "I know the position is primarily a ceremonial one these days but I love Lancaster and intend to work hard on behalf of the Duchy and Lancaster Castle."
The constable receives a stipend of £5.25 a year from the Queen in her ancient role as Duke of Lancaster.
Last year, Lancaster Castle opened its gates to the public for the first time in 900 years.