'Dire' situation for Blackpool secondary schools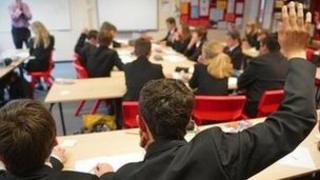 Secondary education in Blackpool is "dire" and council support is "ineffective", the school watchdog has said.
Ofsted said "urgent attention and swift action" must be taken to give students a good education.
If follows a November inspection of the council due to concerns over low educational attainment in the area.
The Labour-run council said two new school improvement officers would be recruited to address the problem.
The Ofsted report said a young person's chance of attending a good school decreases considerably at the age of 11 and that the council is not doing enough to address the problem.
'Cause for concern'
It said this has led to underachievement, with pupils' progress and attainment remaining well below regional and national averages.
Ofsted's regional director for the North West, Michael Cladingbowl, said: "We will not walk away. We will challenge and support schools and the local authority to ensure all children receive a good education in Blackpool."
Councillor Ivan Taylor, cabinet member for children's services at the council, said: "Our officers work hard with schools to help them improve but in recent years they have not been improving at the speed we would like and it has been cause for concern.
"More than three-quarters of Blackpool primary schools are rated as good or better; this demonstrates that pupils are getting a good start to their education.
"What we need to ensure is that the trend continues at secondary school."
The council will be re-inspected in the next nine to 12 months to establish whether any progress has been made.