Two Stonyhurst College pupils 'flee to Dominican Republic'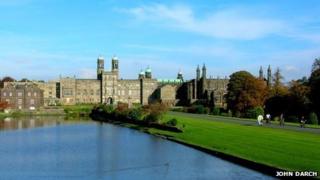 A teenage boy and girl have gone missing from a boarding school in Lancashire and are understood to have flown to the Dominican Republic.
Stonyhurst College students Edward Bunyan and Indira Gainiyeva, both 16, were last seen at Manchester Airport at 03:00 GMT on Monday.
They left the Roman Catholic private school in a taxi and travelled to various places to reach the Caribbean.
The school reported the pair missing at 15:30 GMT on Monday.
'Get them home'
Police said their families have been informed and are being kept updated.
Matthew Mostyn, second master at Stonyhurst College, which is near Clitheroe, said: "We discovered later on in the morning they weren't in school.
"We have excellent security at Stonyhurst. But we have to bear in mind the main purpose of that security is to keep intruders out, rather than to somehow imprison our pupils."
He added: "The good news is the police do seem to be making some progress.
"I think they might know where they are, but we're not out of the woods yet. We just want to get them home with their families as soon as possible."
Officers are "carrying out a number of inquiries to try and trace them to ensure that they are safe and well".
A Lancashire police spokeswoman said: "A 16-year-old boy and a 16-year-old girl are currently missing from Stonyhurst College. Both are boarding pupils at the school.
"They were last seen at shortly before 03:00 GMT on Monday at Manchester Airport and it is believed the pair may have travelled abroad.
"We are liaising very closely with the families and with the police, who have been extremely helpful," she added.
Stonyhurst College, near Clitheroe, is an independent fee-paying boarding and day school, which follows Jesuit traditions. It was founded in 1593.
Overseas and UK children aged 13 to 18 are taught there. Annual boarding fees for 2013-2014 were £29,439.
Education watchdog Ofsted rated the school as outstanding at its last inspection in 2011.
Ofsted reported there were 468 pupils at the school, of which 310 were boarders.