All women shortlist to succeed Blackburn MP Jack Straw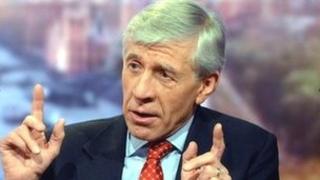 The Labour candidate replacing Jack Straw in Blackburn at the next general election will be a woman.
Mr Straw, 67, who was elected to Parliament in 1979 is standing down at the next general election.
The Labour Party's national executive agreed an all-women shortlist for the seat at a meeting earlier after a consultation period with local party members.
Mr Straw's agent Phil Riley said the decision was "no real surprise".
Mr Riley said the party has kept up its promises of promoting women.
'Core value'
In a statement, a Labour Party spokesman said: "Labour is working to increase the diversity and representativeness of Parliament and has a proud record of increasing the number of women and ethnic minority MPs.
"If people want a Parliament that is more open, plural and democratic then we need to make big changes."
The spokesman added: "Labour has the most successful record of women's representation in comparison to all other political parties and will always have equality as a core value."
The Blackburn seat has been a Labour stronghold since 1945 when Labour minister Barbara Castle was first elected.
She held the seat for 30 years until she retired in 1979 when Mr Straw, who had been her adviser, succeeded her.
The former home and foreign secretary successfully stood in eight general elections in the constituency.
The Labour party brought in the "women only" shortlists in 1997.