Four-year-old girl praised for saving mother by dialling 999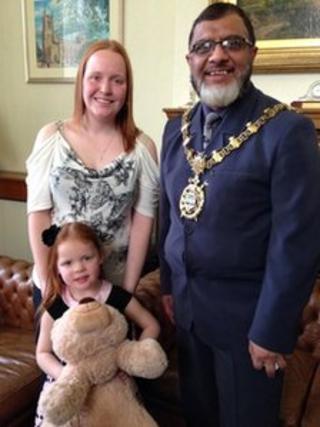 A four-year-old girl has been awarded a police commendation for dialling 999 when her mother was knocked out by a falling bookcase.
Lexi Cooper told the call operator that Nicola Ellis, 25, was "asleep" and gave her Lancashire address, allowing police to come to her rescue in December.
Ms Ellis suffered injuries to her shoulder, neck, wrist and pelvis.
Lexi, the youngest person to receive such an honour, was described as "extremely brave and courageous".
She was handed the award at a ceremony in Blackburn.
'Truly fantastic'
Ms Ellis said: "I am so thankful and proud of Lexi for what she did.
"She had recently had a talk at school about the emergency services which meant she knew what to do in this situation.
"Without her quick thinking and bravery, who knows how this situation could have ended? I could have been left unconscious for hours."
Ch Supt Chris Bithell said: "She was extremely brave and courageous young girl.
"She gave excellent commentary to the call operator and followed all the instructions she was given, remaining on the phone until the police, who were first at the scene, arrived. She even opened the door for them."
Operator Sophie Roscoe was also praised for her handling of the call.
She said: "Despite the awful situation, and her two siblings beside her, she remained focused throughout and adhered to every instruction that I gave her. I honestly can't believe that someone so young could be so truly fantastic."