PC faces hearing after blind man Tasered in Chorley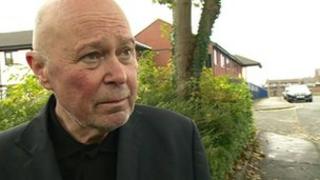 A police officer who Tasered a 63-year-old blind man when his white stick was mistaken for a samurai sword will face a force hearing.
Colin Farmer was targeted with the stun gun by a PC who received reports of a man walking through Chorley, Lancashire with a sword in October 2012.
Last August, the Crown Prosecution Service decided no criminal charges were to be brought.
Lancashire Police confirmed the performance hearing will be in March.
Sophie Khan, Mr Farmer's solicitor, said her client had been informed of the development.
She said: "It is hoped that the hearing will shed light on why the officer Tasered my client and what action Lancashire Police will take against their officer".
Mr Farmer, who is registered blind and has suffered two strokes, said he had thought he was being attacked by thugs when it happened.
He was walking to a pub to meet friends at the time and said the Tasering forced him to drop his stick and fall to the ground.
A spokeswoman for Lancashire Constabulary said: "A performance hearing will be held for the officer over two days on 24 and 25 March.
"Mr Farmer will be invited to the hearing which will be chaired by an assistant chief constable.
"We continue to work closely with the Independent Police Complaints Commission, as we have from the outset."