Lancashire County Council plans to axe 2,500 jobs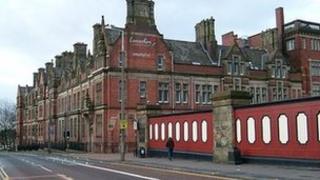 About 2,500 full-time jobs are to go at Lancashire County Council because of budget cuts, the authority has said.
The staff cuts are expected to come into force by April 2016.
Lancashire County Council leader Jennifer Mein said the authority would do "everything" to avoid compulsory redundancies.
She said she was "absolutely devastated" but it was the "harsh reality" of the £300m of savings it needed to make over four years.
'Significant posts'
The Labour councillor said: "It is heartbreaking to think there are 2,500 families that are going to be affected by this.
"We have had to be sensible about it; we are being asked to reduce our budget by £800m to £500m and I think most people would understand that it won't be achieved without significant posts being lost.
"My hope is that enough people will choose to go on a voluntary basis and our proposed approach has that outcome in mind."
Ms Mein said the number of job cuts would leave a "big hole" in services.
"We are going to have to reshape our services completely," she said.
"What we are trying to do is protect services as far as we possibly can to the most vulnerable people."
The Department for Communities and Local Government said the coalition government had delivered a "fair settlement" and Lancashire's 2.6% was less than the national average of 3.1%.
In a statement, a spokesman said: "Every bit of the public sector needs to do their bit to pay off the budget deficit, including local government which accounts for a quarter of all public spending.
"Councils are successfully managing their budgets. Public satisfaction with council services has increased and council tax bills are falling overall in real terms.
"In the coming year councils should stay focused on cutting waste, making sensible savings, modernising frontline services and keeping council tax down."
Lancashire council's proposals are to go before the authority's cabinet on 24 January.
The authority employs 34,500 people, but the majority of jobs are funded through the "ring-fenced" schools budget.
The job losses will be among the 13,000 non-school council employees.
On Thursday, the cabinet agreed a proposal to increase council tax by 1.99%.
Ms Mein said the rise, the equivalent of 41.5p per week for a band D property, would bring in an extra £7.3m and was "a small price to pay" to protect services.
The final decision on the council tax increase will be made at a full council meeting on 27 February.