Lancashire PCC Clive Grunshaw admits expense claims 'mistakes'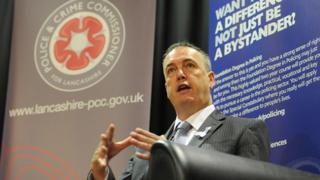 Lancashire's Police and Crime Commissioner has admitted he "submitted expense claims I shouldn't have".
The claims were made from January 2009 to December 2012 when he was a county councillor and police authority member.
It was alleged he claimed for travel to meetings for both on the same day.
The Crown Prosecution Service said on Thursday there was "insufficient evidence" to prosecute Clive Grunshaw for submitting "dishonest" claims.
Mr Grunshaw admitted he "made mistakes" with his expenses claims - sometimes claiming too much or not claiming what he was entitled to.
Claims 'not right'
But he added: "To go through such a process of 12 months intensive investigation, I think if there are any questions to be asked the ones that need answering, are about the motivation around the allegation made and the cost of this investigation."
The Independent Police Complaints Commission investigation followed a freedom of information request by former Chorley South councillor Sam Chapman about mileage claims.
He said: "When this began I was chairman of Lancashire County Council's audit committee.
"I uncovered evidence that Mr Grunshaw had submitted claims which were not right and, to be honest, if I had not reported that to the authorities people might have thought I was involved in some kind of cover up."
Mr Grunshaw became the county's first PCC in 2012, after having served for four years as the chair of the county's police authority.